---
Armac Design - Triumph Tiger Cub 200
Mon dernier projet est de réaliser une Triumph Tiger Cub mais dans l'esprit moderne de Armac Design. Comme si l'usine Triumph avait continué à développer le modèle jusqu'à aujourd'hui! Cela devrait ressembler plus ou moins à ceci:
My last project is to build a Triumph Tiger Cub but in the modern spirit of Armac Design. As if the Triumph factory continued to develop the model until today! It should look like this, more or less: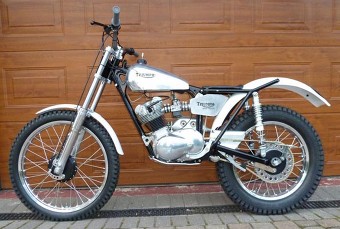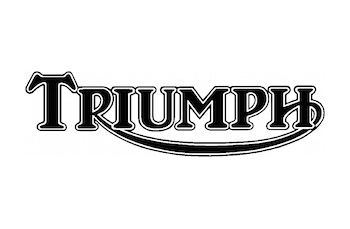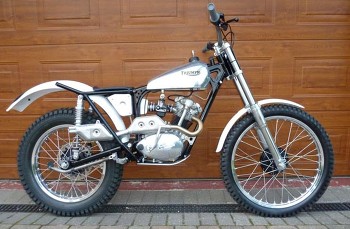 J'ai donc acheté un moteur de Cub en Angleterre et commandé toutes les pièces nécessaires à la réalisation de ce projet chez Judy et Duncan MacDonald de Armac Design. Ils m'ont aussi conseillé Gerry Minshall et RockShocks pour la fabrication de mes jantes et freins en aluminium ainsi que pour les amortisseurs arrières reconditionnables.
Mon idée est de vous montrer l'évolution de ce projet au fil de mes rares temps libres ;-)

Vous pouvez suivre ci-dessous le calendrier de cette aventure (à lire de bas en haut)…
So finally I bought a Cub engine in UK and ordered all that necessary parts for this project at Judy & Duncan MacDonald from Armac Design. Great people!
They also advised me to contact Gerry Minshall and Rockshocks for making my wheels and brakes hubs in aluminum and for reconditionnable rear shock absorbers.
My idea is to show you the progress of this project through my rare free time ;-)

You can follow the schedule of this adventure below (to be read from bottom to top)…
* English mother tongue friends, sorry for the mistakes ;-)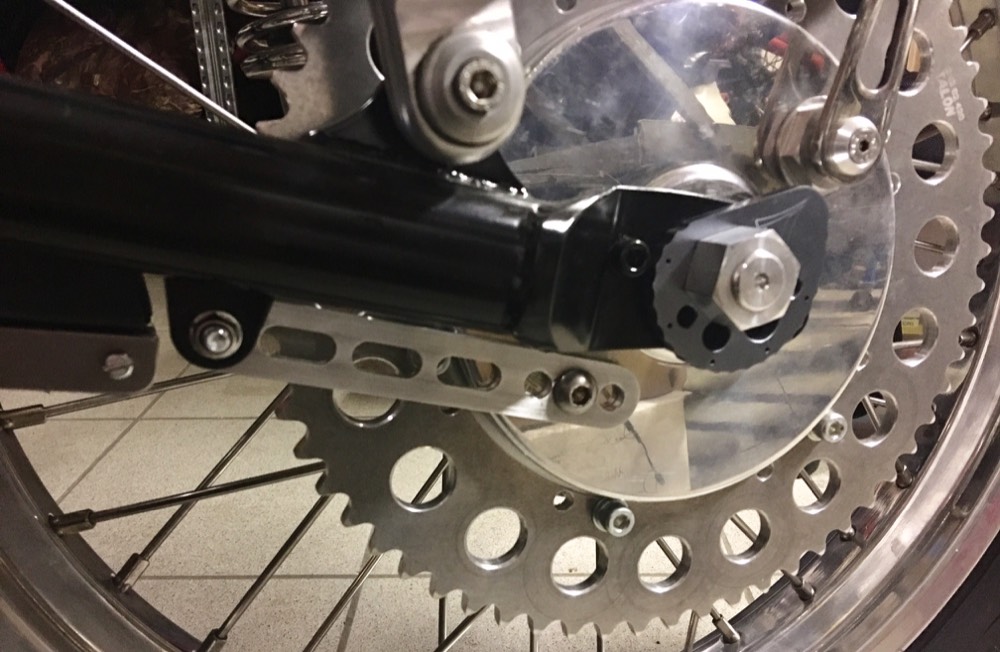 J'ai reçu de mon collègue
Peter Brands
une magnifique patte d'ancrage du frein arrière. Usinée dans une pièce d'aluminium… superbe ;-)


I have received from my colleague
Peter Brands
a very nice brake anchor plate. Really well crafted in a block of aluminium… beautiful ;-)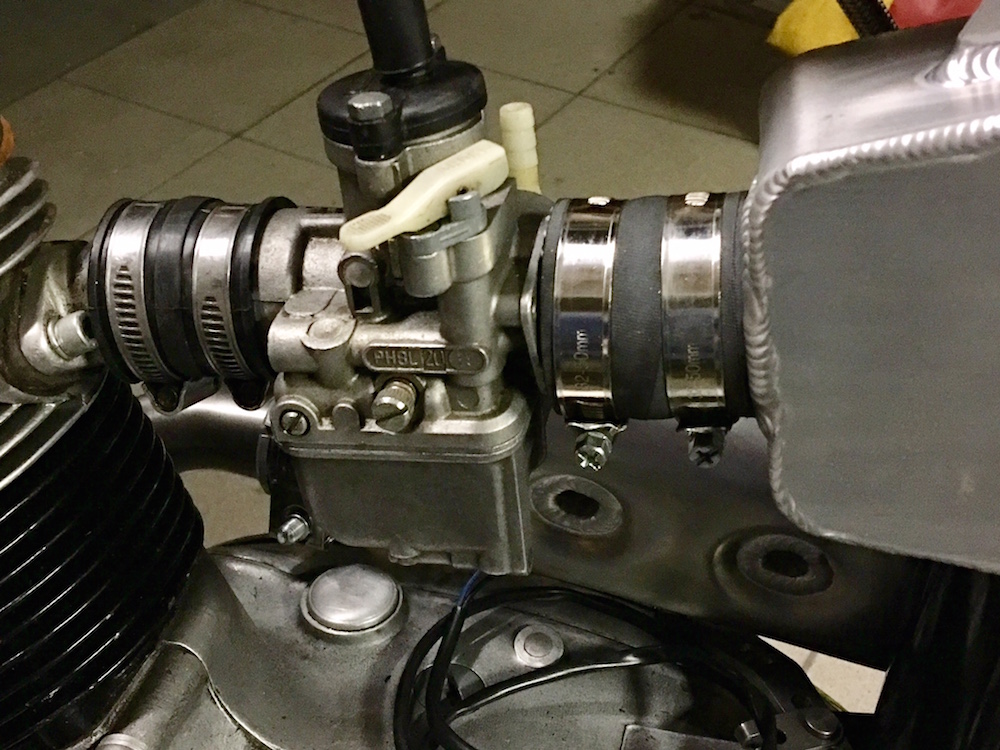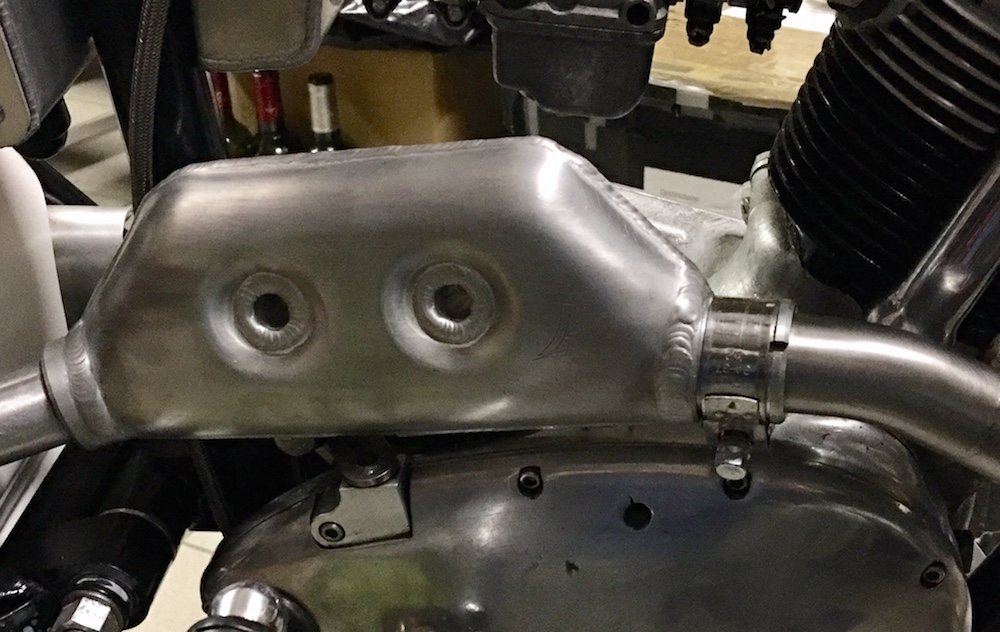 Aujourd'hui j'ai mis en place le filtre à air en alu et les deux connecteurs en caoutchouc qui vont de part et d'autre du carbu.
Ensuite le clips de fixation pour joindre le tube d'échappement au silencieux central. A suivre…

Today I have placed the air inbox and the two rubber connectors that goes in between the carb. I have also cited correctly the fixation clip that joint the tube to the center chamber of the exhaust. To be followed…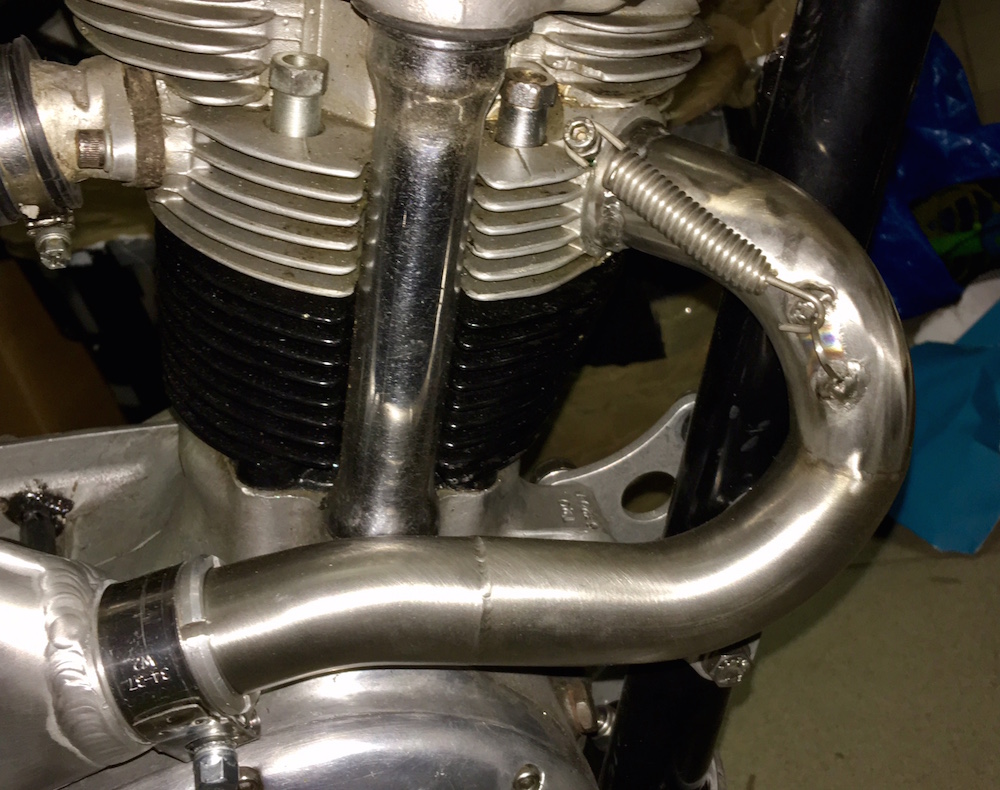 Finalement me voilà de nouveau avec un peu de temps pour travailler sur l' Anglaise! Je me suis rendu compte que les filets qui doivent se trouver dans la culasse ont disparus, donc impossible d'attacher le tube d'échappement par la méthode traditionnelle!
J'ai donc été la porter chez Bernard Hubaut qui m'a soudé une rondelle sur le tube pour bien rentrer dans la culasse ainsi qu'une attache en U pour venir y accrocher un ressort ! Génial !

Finally a little bit of time for my English baby! I found out that I have no more threads in the top of the cylinder to attach the exhaust tube the original way. So I went to Bernard Hubaut and he welded a piece of metal around the mouth of the tube to go inside the head. Another U welded on the tube and we could attach a spring to press it against the head! And it is working perfect!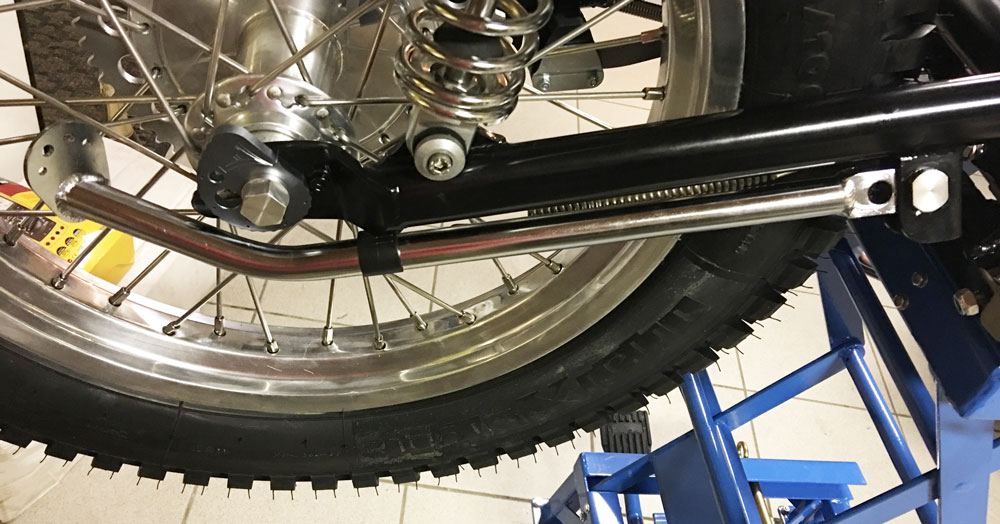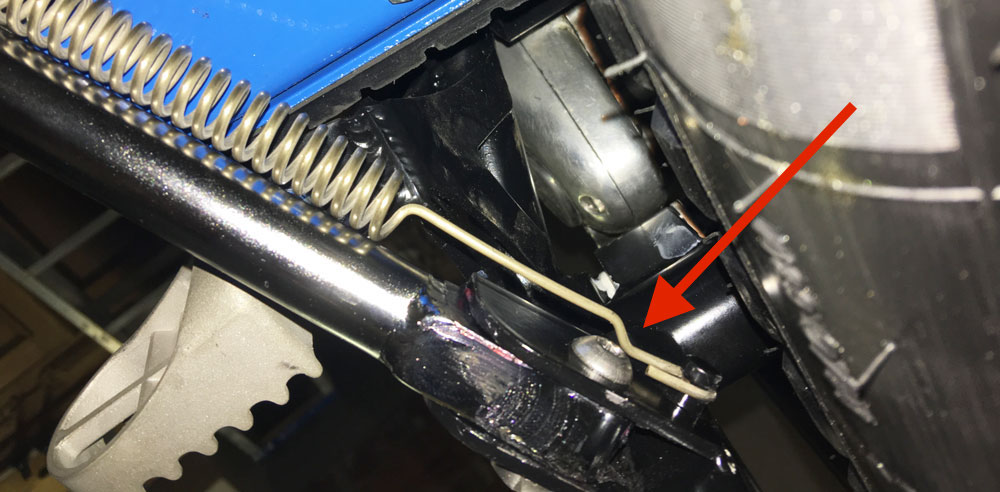 J'ai attaché aujourd'hui la béquille au cadre car je dois aller avec la moto pour voir un spécialiste en tuyaux hydrauliques pour faire le circuit d'alimentation en huile du moteur. Il demande pour avoir la moto et le moteur dans le cadre pour prendre les mesures des tuyaux! Il fallait donc qu'elle tienne debout toute seule la Belle ;-)
Pas bien compliqué de l'installer, il faut juste faire attention à ne pas avoir un coup avec la force du ressort car celui-ci peut revenir violemment si le bout de la béquille ressort de son logement! J'ai donc attaché le ressort à la béquille et au crochet du cadre. Puis en tirant sur la béquille, on étire le ressort et on peut placer la fin dans la patte métallique soudée au cadre. On glisse enfin l'écrou dans son logement en tirant un peu pour que le trou de la béquille coincide avec le trou de la patte du cadre. Une fois qu'on l'a enfoncé dans son logement, il ne reste plus qu'à serrer la vis hexagonale par en dessous.
Sauf que j'avais pas fait gaffe car il y a un sens pour positionner le ressort. En effet il y a une courbure (voir flèche rouge) qui permet de dégager le ressort de la vis de fixation de la béquille quand celle-ci se déplie et se replie. Evidemment je l'avais mis dans le mauvais sens et j'ai du tout recommencer ;-)

Today, I have mounted the propstand to the swinging arm because I have to go to a specialist in hydraulic tubing for the oil circuit of the engine. He asked to have the engine in the frame be able to take good measurements for the tubes. So the prop stand was needed to keep the Beauty standing up alone ;-)
Not too much complicated to install it, the only thing to take care of is the strength of the spring because this one can come back very fast sometime if it is not secured.I have attached the spring to the propstand and the hook of the swinging arm. Then just by pulling the propstand, you lengthen the spring and you can insert the end inside the bracket. Then fit the bolt inside his hole and tighten the nut.
You have to be careful because there is a way to position the spring. There is a little curve (see red arrow) to allow space between the spring and the fixation nut when you open and close the propstand. Of course, I have placed it reverse the first time, so I had to redo it ;-)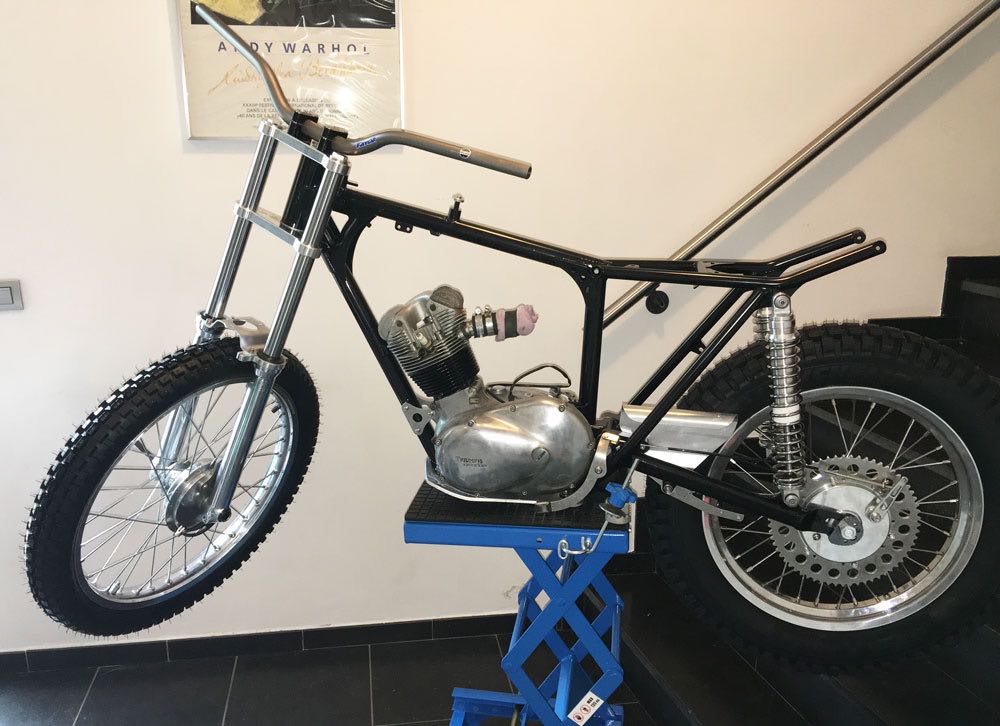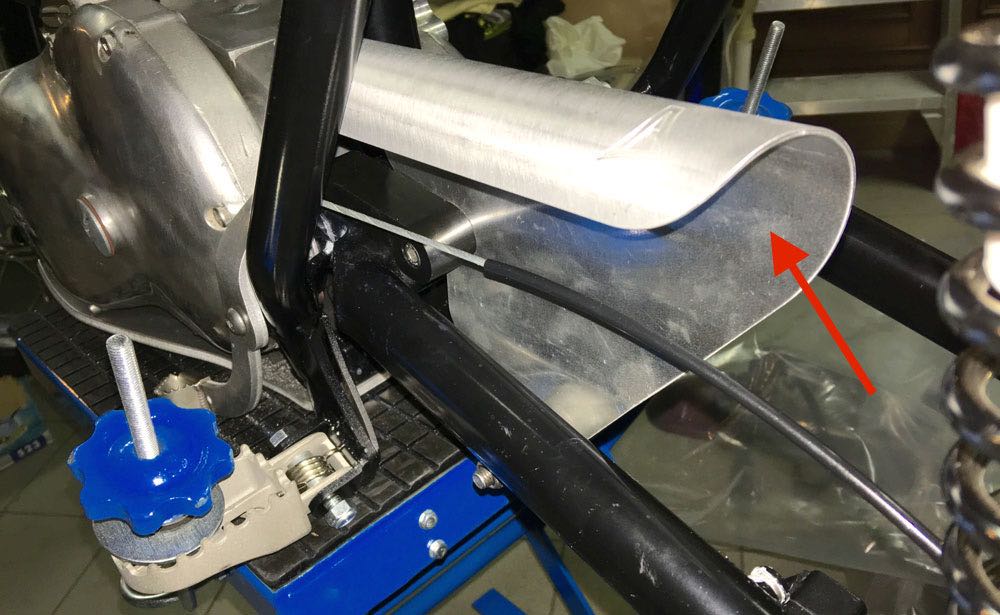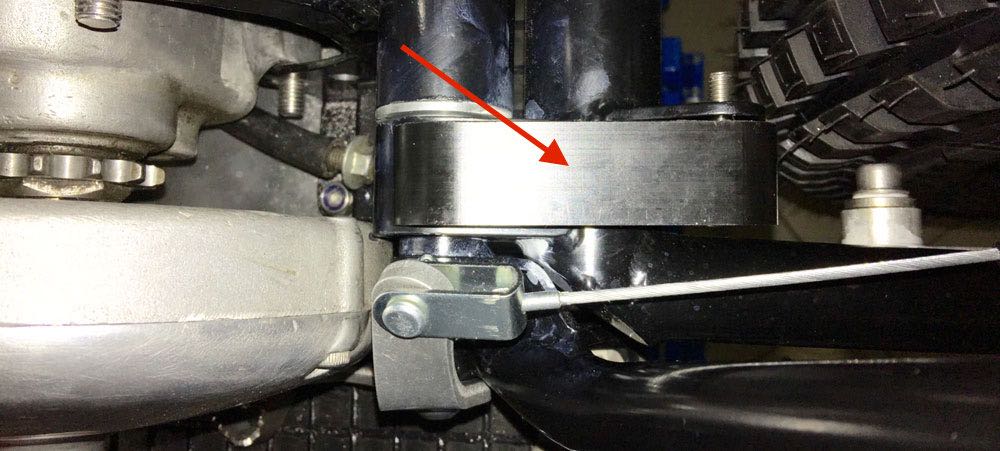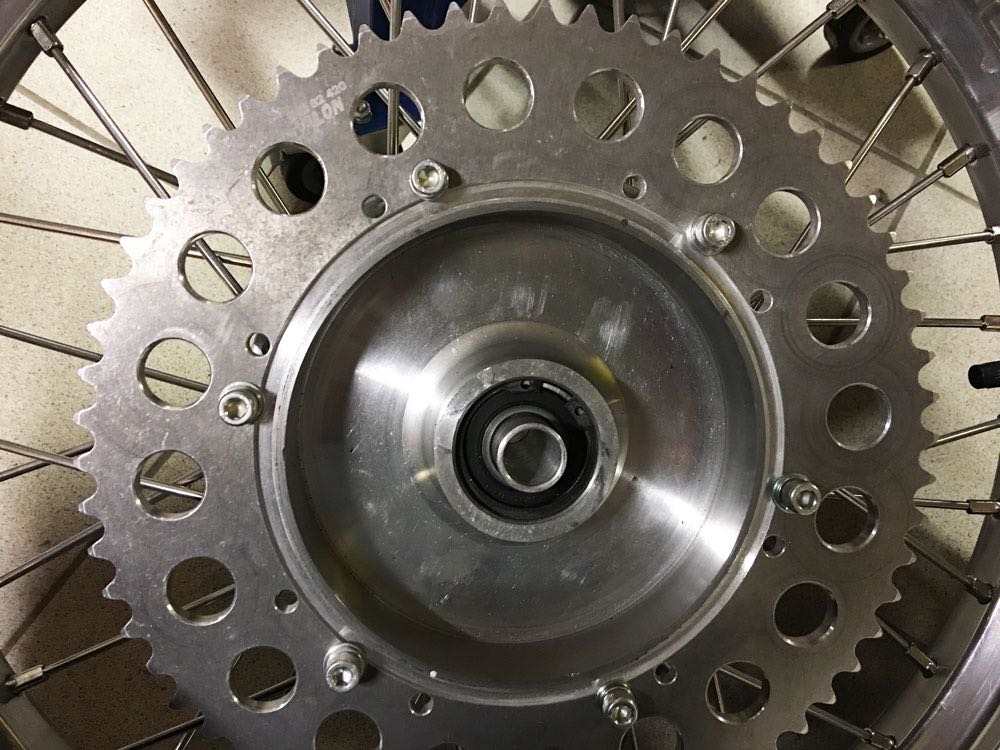 Pas eu beaucoup de temps ces derniers jours!
Suivant les conseils de Duncan, j'ai limé la couronne arrière pour donner un peu de jeu car elle était vraiment trop à serrage. Puis un peu de papier de verre pour adoucir le cercle et hop, ça passe sans problème maintenant ;-) Restera plus qu'à acheter des boulons inox.
J'ai monté aussi la protection plastique qui protège le bras oscillant des frottements de la chaîne en sortie de boite. En même temps j'ai posé la protection alu de la chaine. Elle s'attache au tendeur de chaine.
Et pour finir, une photo de la Belle avec les deux roues et les nouveautés. Vous remarquerez que je n'ai pas attendu pour mettre le guidon Renthal FatBoy. Il a de la gueule, non? En plus c'est le même que Toni Bou ;-)

Not too much time for the Armac these days!
Following Duncan's advice, I file the rear sprocket to give a little play because it was too tight and impossible to place in front of the holes and put the nuts. After the file, I finished with sand paper and now it is perfect. I just need some stainless steel hex nuts!
I have also placed the plastic protection that sits on top of the swinging arm to prevent the chain to scratch the arm at the exit of the gearbox.In the same time I have also mounted the aluminum protection of the chain? It is attached at the same place than the chain tensioner.
Last but not least, a picture of the Beauty with the 2 wheels and the new stuff. You will notice that I couldn't wait to put the Rental Fatboy handlebar. It is cool, no? It is the same than Toni Bou ;-)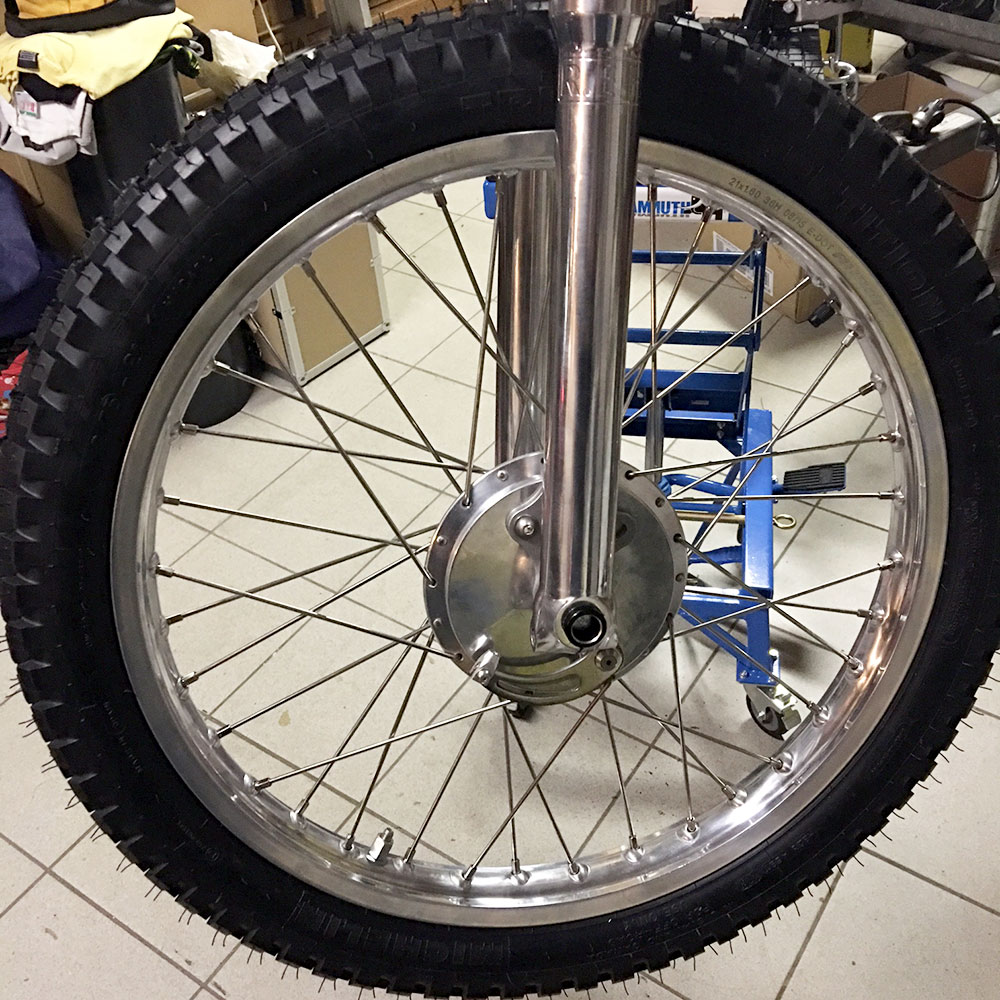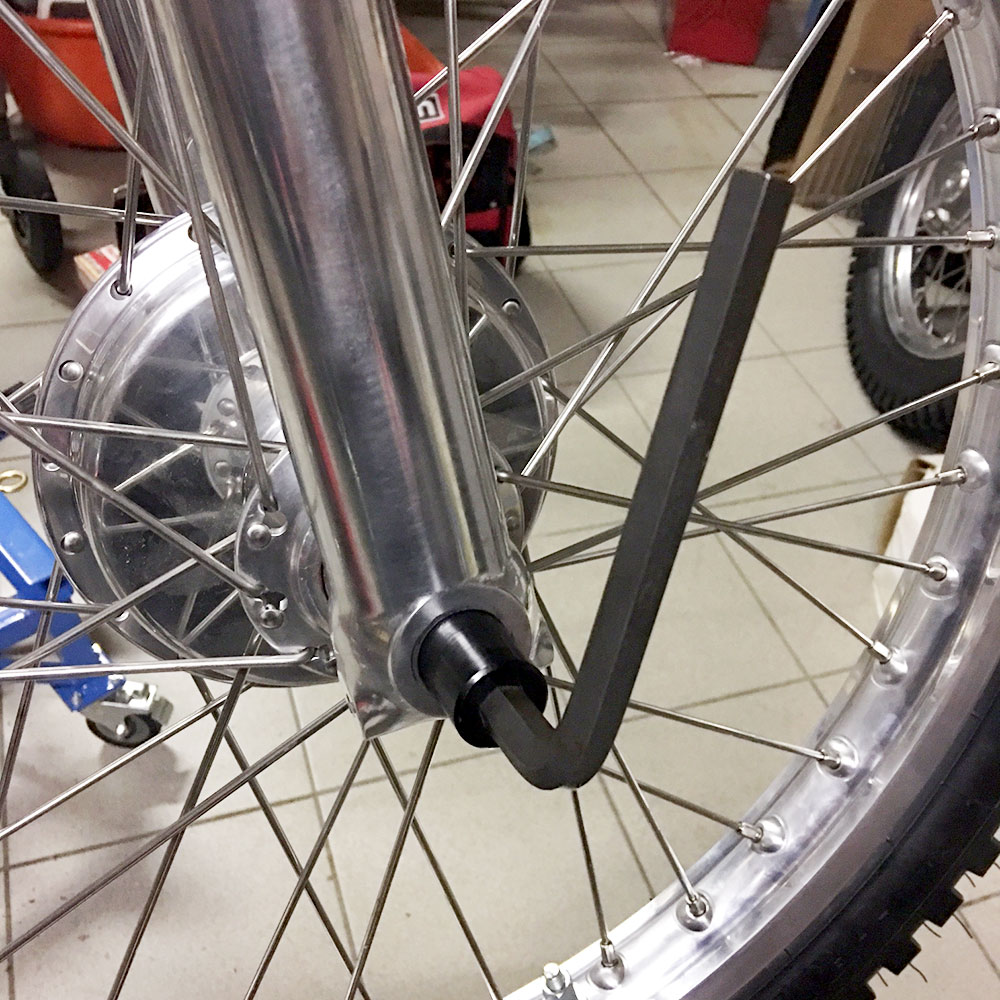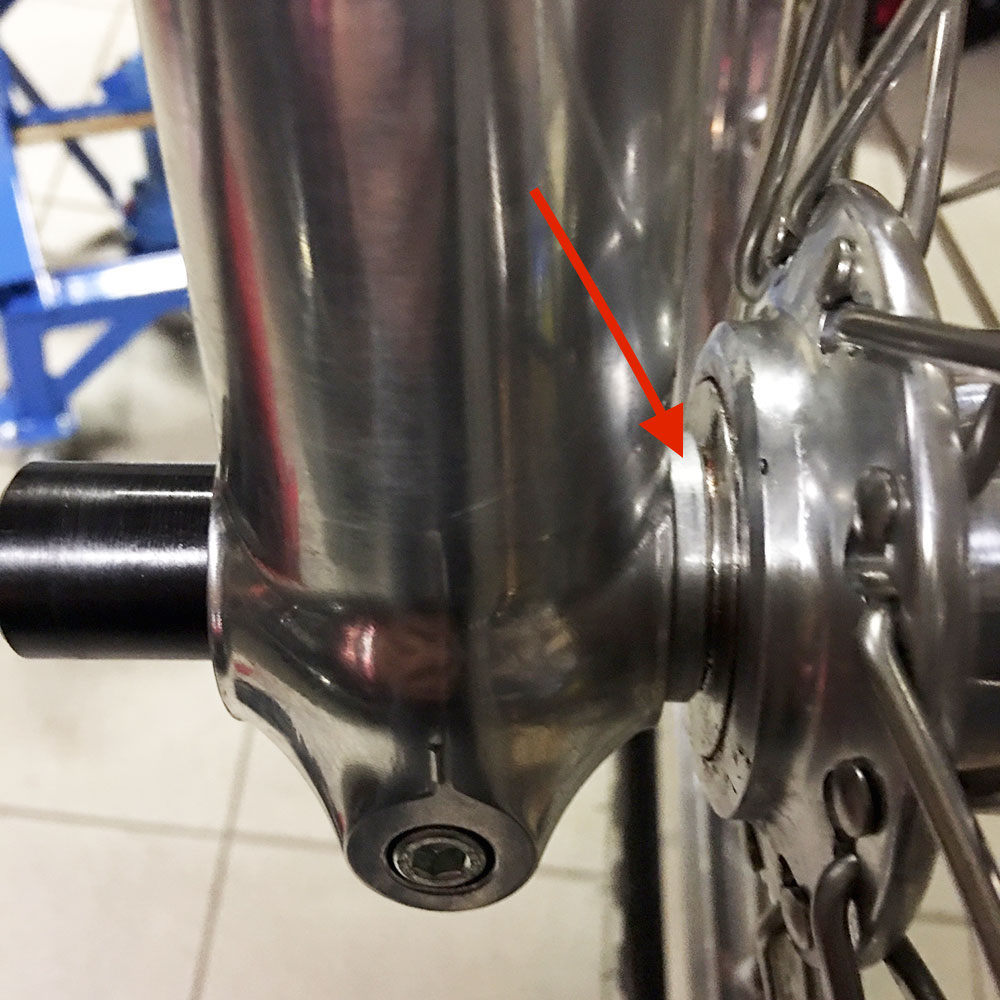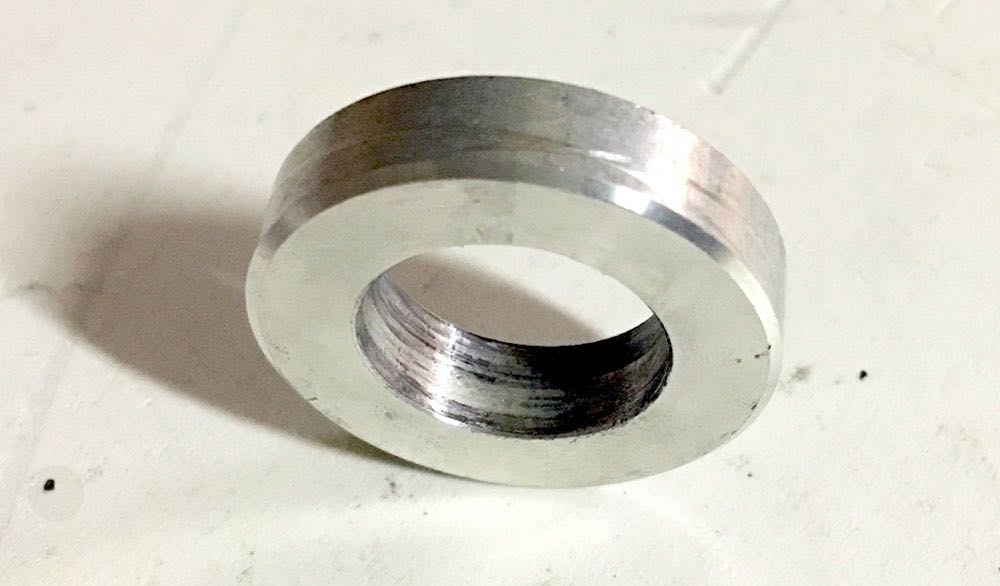 Il faut maintenant trouver une entretoise à gauche et à droite du moyeux de la roue avant. Il faut que celle-ci soit bien centrée entre les deux canons de fourche. J'ai fait un test avec des rondelles identiques de deux millimètres d'épaisseur que j'ai empilées pour ne plus avoir de jeu, j'arrive à une entretoise de 4mm (photo avec flèche rouge) à droite et 7mm à gauche. Cette dernière entretoise vient se loger dans le trou de la pièce qui sert de blocage du frein avant!
J'ai donc fait réaliser par un tourneur les deux entretoises en aluminium.
Je viens de les poser et je m'aperçois qu'il y a un tout petit jeu quand même :-( Je vais me renseigner et verrai plus tard!
Now I have to found a way to center the wheel in between the two sliders of the fork. For that I have tested with some washers of 2mm thickness to end up with a spacer of 4mm at the right side (picture with red arrow) and one with 7mm thickness on the left side (brake side)
I have asked a turner to build them in aluminium.
I have just put them on the bike and I can see that it is not 100% perfect, there is still a little play :-( Will took some advices and fix it later!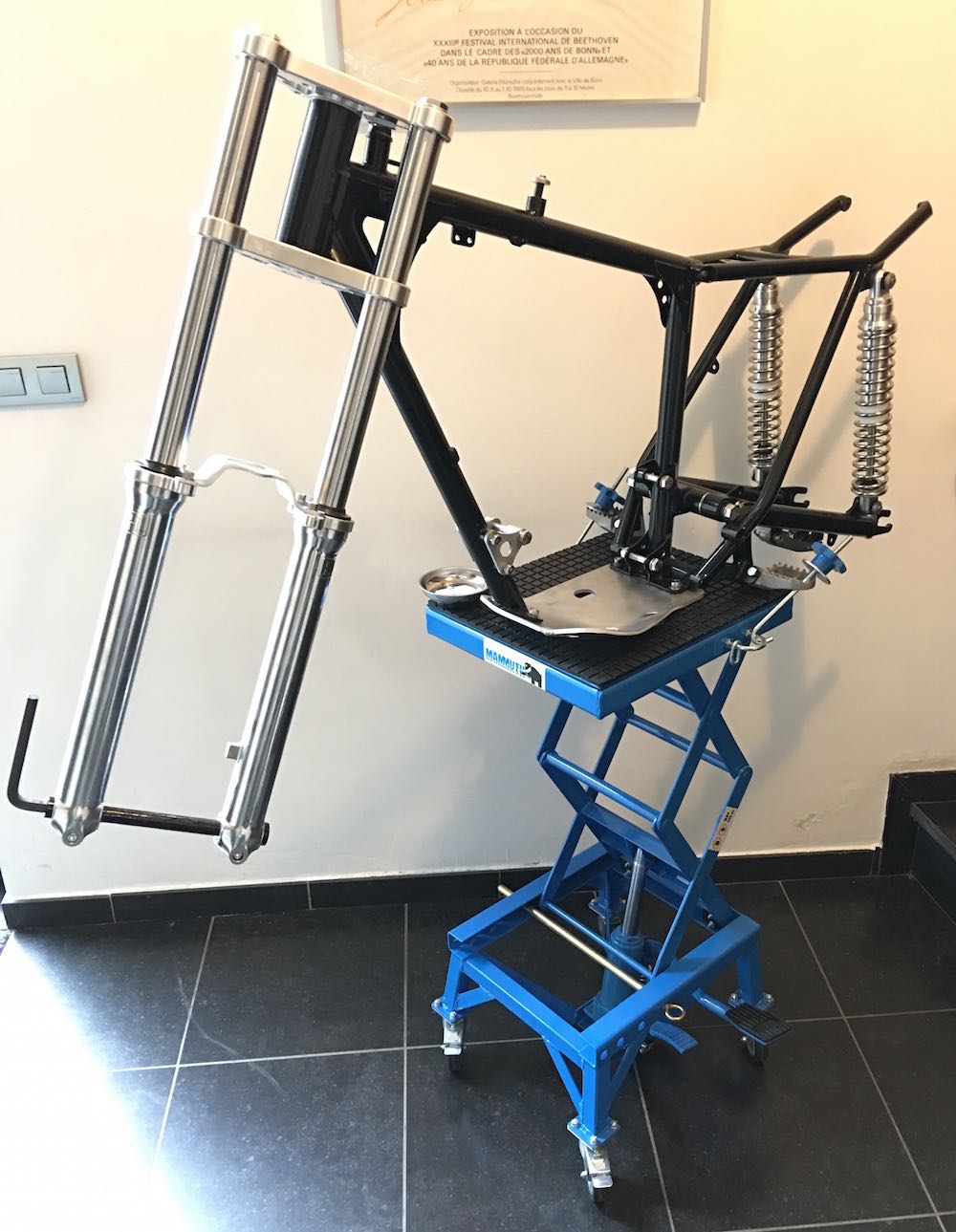 Voila une photo de la fourche mise en place. La semaine prochaine, on parlera de l'axe de la roue avant et des entretoises. Mauvaise nouvelle, il faudra en fabriquer!
J'oubliais de vous présenter Mammuth mon lève-moto extensible génial. Beaucoup moins mal au dos ;-)
Now a picture of the fork ready at his place. Next week, we will talk about the front spindle and the spacers. Bad news, we will have to build our own!
I have forgotten to introduce you to my new assistant Mammuth, an extensible table for trial bikes. No more heavy back pain ;-)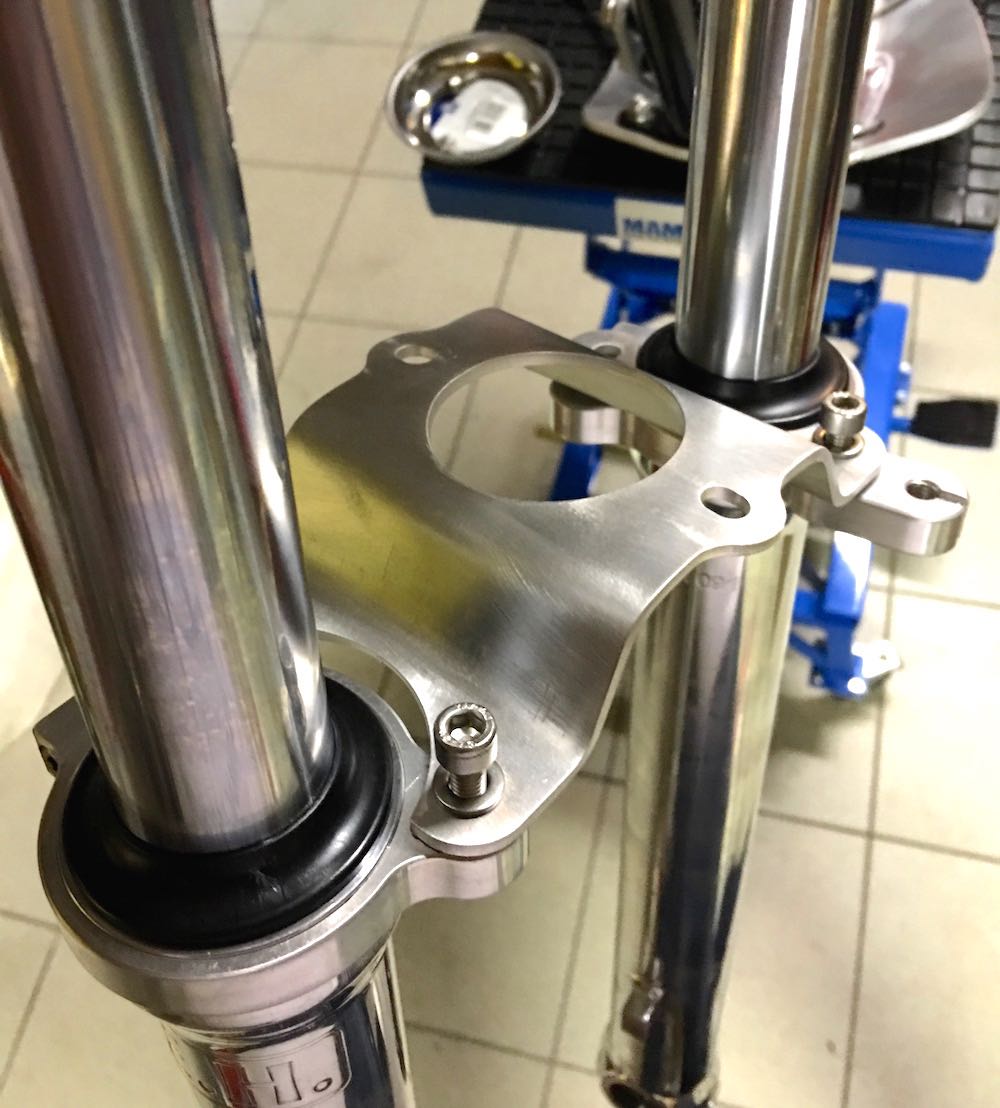 Passons à la fourche aujourd'hui!
Je vais donc glisser les magnifiques tubes de fourches R.E.H. dans le ouvertures prévues dans les deux tés de fourches. Je vais les maintenir en place an vissant légèrement les vis de maintien de chaque té sans forcer, juste pour les empêcher de tomber.
Mais avant il faut faire passer par le haut les deux supports de garde-boue avant qui viennent se fixer sur le haut du fourreau de fourche, le gauche possède une encoche prévue pour y fixer le câble de frein AV. Deux vis à serrer aussi modérément, juste pour les mettre en place.
Ensuite on vient y passer le rigidificateur de fourche qui sert aussi de support garde-boue. 4 vis à serrer et le tour est joué.
Maintenant que tout est en place, on va pouvoir serrer toutes les pièces en place sans forcer.
Attention à bien respecter 15 Nm maxi pour le 4 boulons qui serrent les tubes de fourche! Pour celui qui serre l'écrou fendu de l'axe de direction, c'est aussi 15 Nm. Utiliser une clé dynamométrique avec un bit hexagonal 6mm!
Let's work on the fork today!
First step, I will slide the two beautiful R.E.H. fork stanchions through the openings of the yokes and keep them in place by tightening slowly the 4 stanchion pinchbolts, just to prevent them to fall off.
But before that, you have to insert the mud guard mount Bracket to place them on the top of the fork sliders, the left one has a special bracket to hold the front brake cable. Two to screw moderately, just to keep them in place.
then, you take the mudguard Brace assembly who is also supporting the front mudguard. Four little bolts to tighten and you are ready to go.
Now that all is in place, you will have to tighten every parts without forcing too much.
Be aware that you have to respect a maximum torque of 15 Nm for the Stanchion pinch bolts and also 15 Nm for the Spindle nut pinch bolt. Use a torque wrench with 6mm hex bit for accurate value!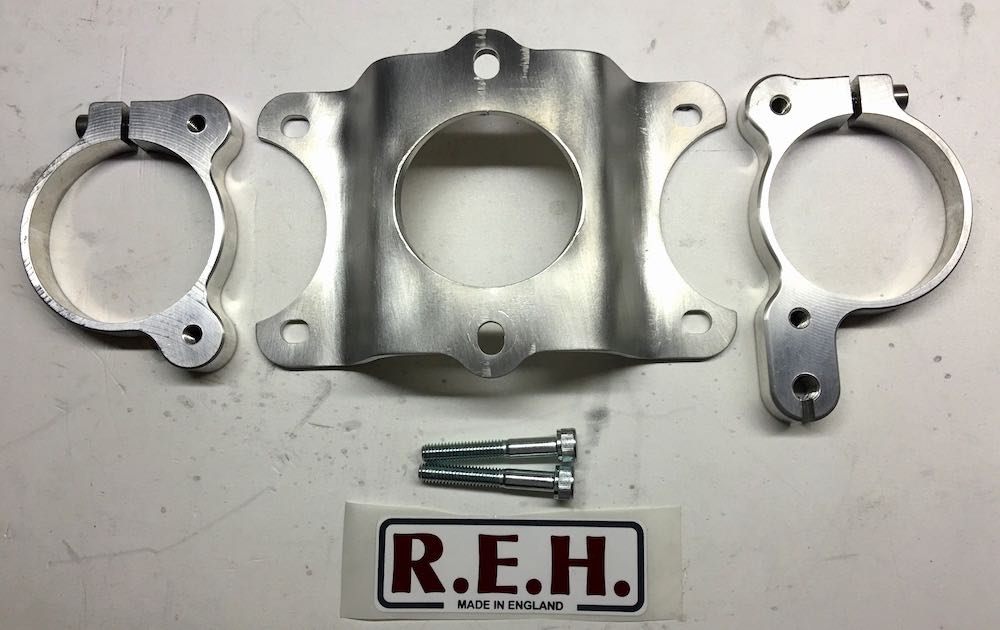 Un boulot qui me fait peur aujourd'hui: mettre en place les roulements de directions! Jamais fait ça!
Merci pour les conseils de mon ami
Ruddy Verkens
;-)
A job that scares me today: implement the steering bearings! Never done that before!
Thank you for the advice of my good friend Ruddy Verkens ;-)
Voilà, ça a fière allure ces tés taillés dans la masse! Bravo
Duncan
!
They look great those CNCed aluminium yokes! Bravo Duncan!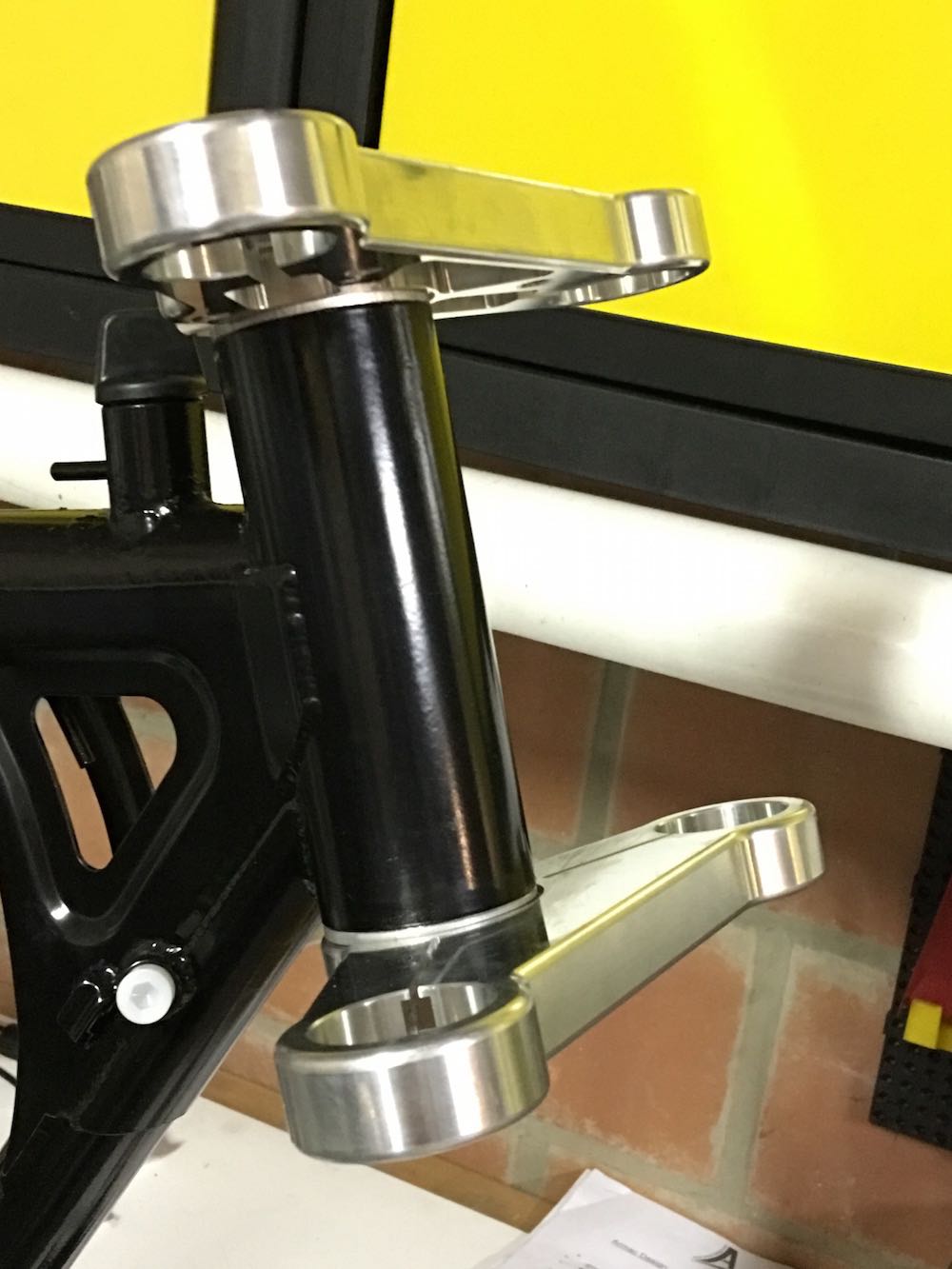 On vient placer le té de fourche supérieur dans son logement et vérifier que tout pivote sans point dur.
We just place the top yoke into place and check that everything rotates without sticking.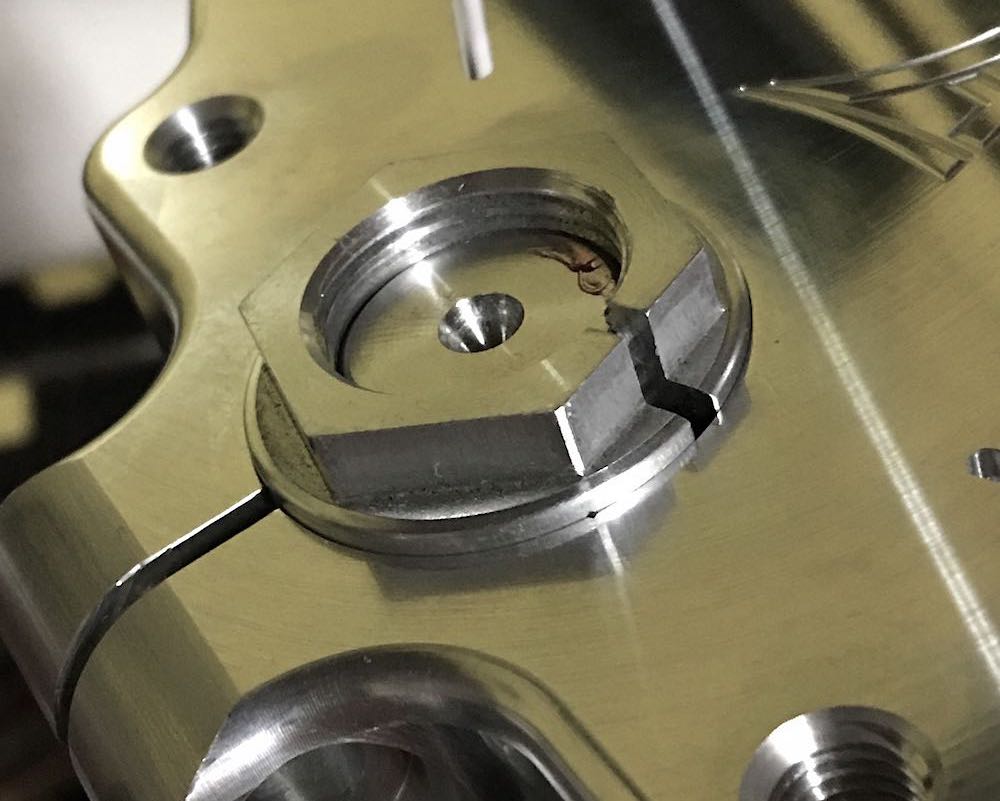 Il faudra donc venir serrer doucement et progressivement l'écrou fendu de l'axe de direction, cela va mettre les deux roulements bien en place avec le té inférieur. Il faut serrer juste pour le maintenir en place, sans jeu.
Now we need to slowly and gradually tighten the adjuster split nut to the steering spindle, this will put the two bearings in place with the lower yoke. We must tighten just to keep it in place without play.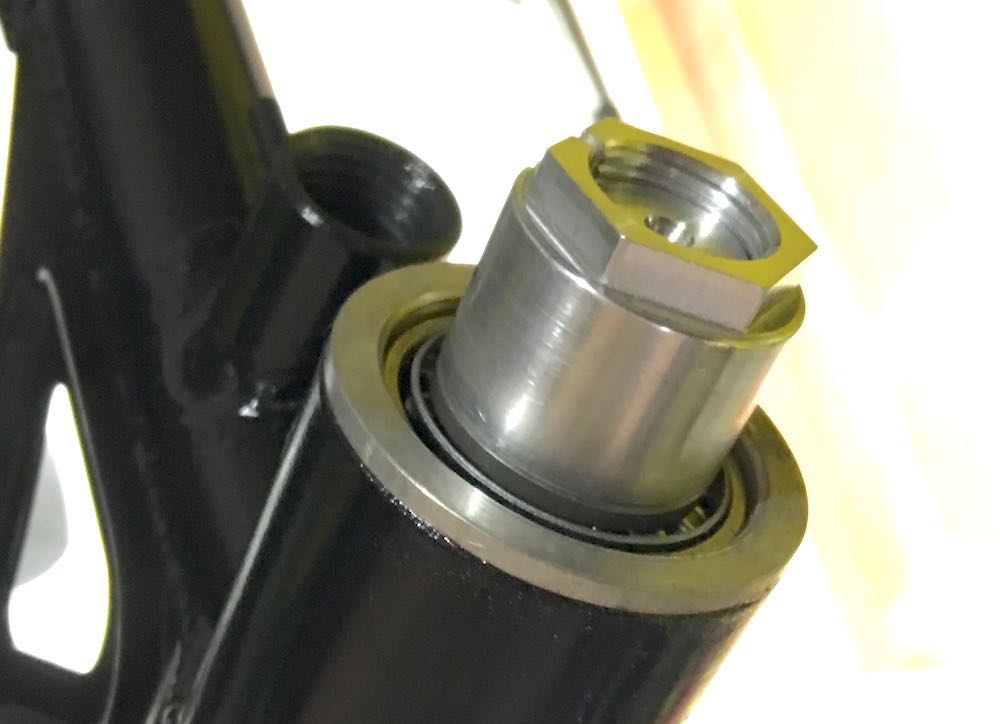 On va remarquer que la surface de la coupelle est assez éloignée de la face supérieure usinée du té de fourche inférieur!
It will be noted that the surface of the aluminium insert is quite far away from the machined upper surface of the bottom yoke!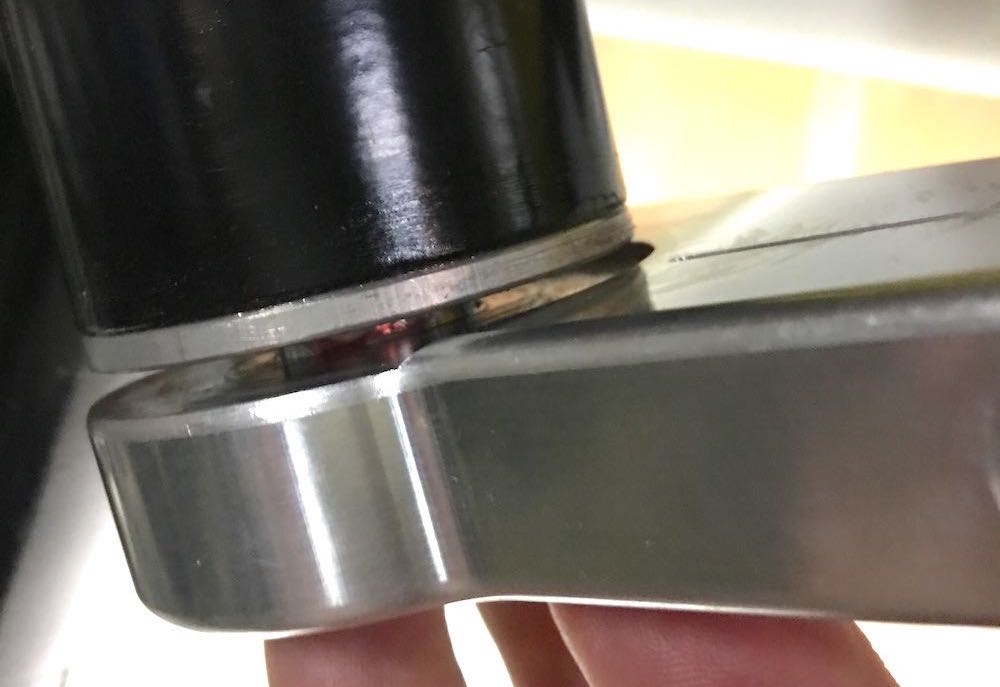 Maintenant il reste à positionner le roulement conique sur l'axe de direction comme sur la photo. Graiser généreusement!
Now it remains to position the tapered bearing on the steering spindle as in the picture below. Grease generously!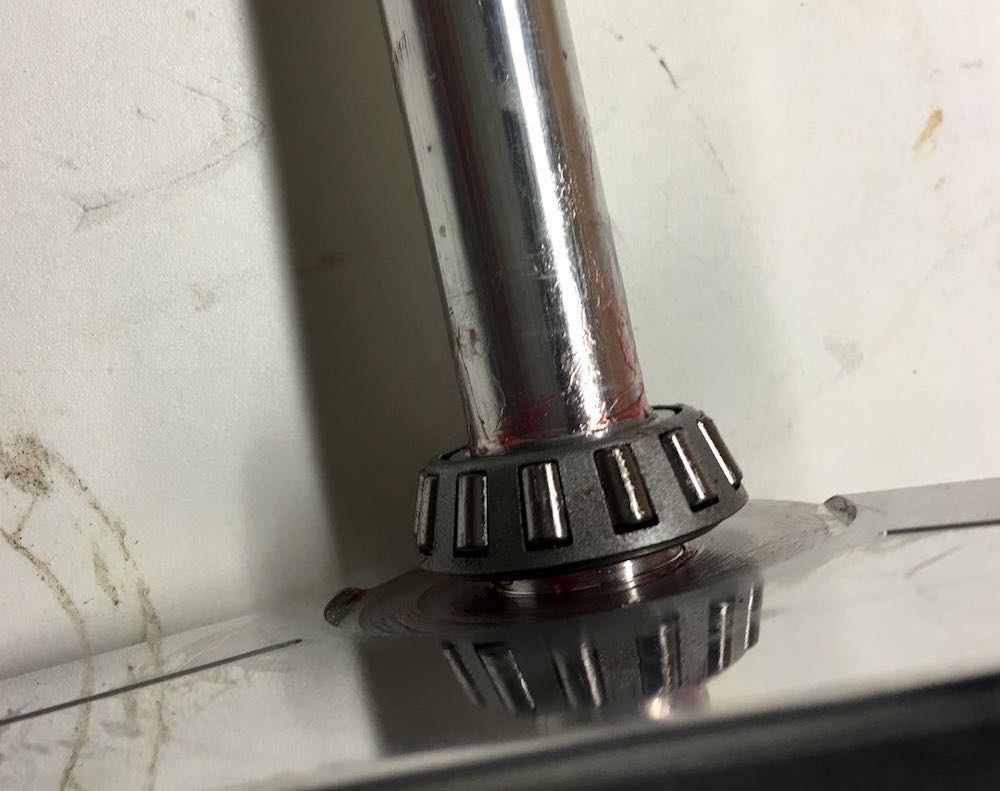 La coupelle supérieure est en place. J'ai utilisé un maillet et un morceau de bois bien plat pour l'insérer le plus perpendiculaire possible! J'ai ensuite retourné le cadre, posé la colonne de direction sur un socle et fait la même chose par en dessous. Les deux coupelles sont montées! Yesssssss!
The upper insert is in place. I used a mallet and a good flat piece of wood to slide it as perpendicular as possible! I then turned the frame upside down, put the steering column on a solid base and did the same from below. The two steering head bearing inserts are mounted! Yesssssss!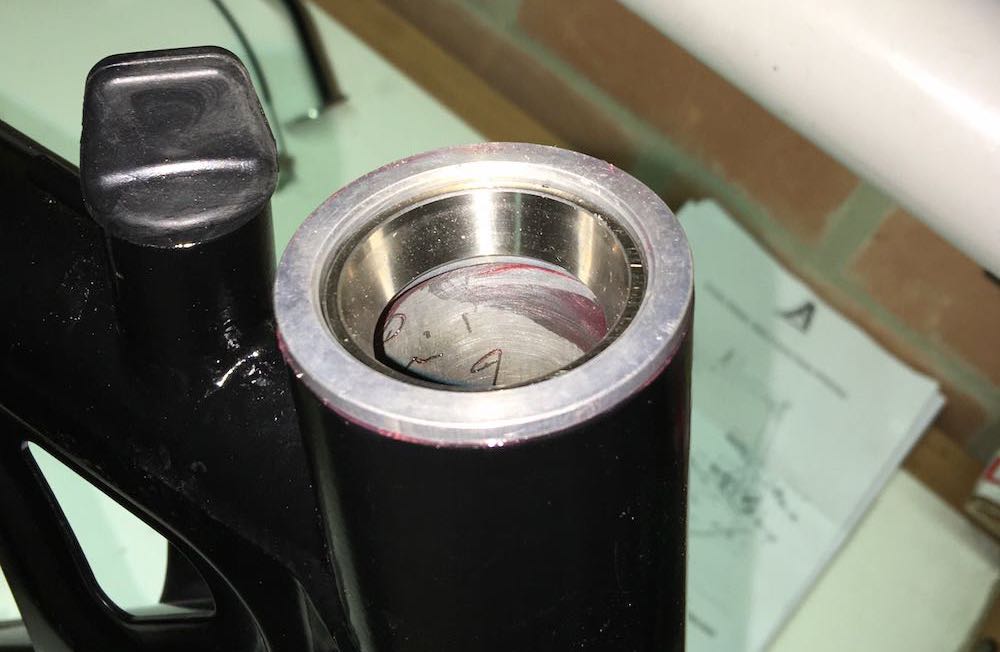 Voilà, c'est dans ce tube en acier qu'il faut venir y insérer les deux coupelles alu garnies de leurs roulements coniques. Une par le haut et l'autre par le bas. Au préalable, j'ai poncé les résidus de peinture qu'il y avait et j'ai appliqué une fine pellicule de graisse pour faciliter l'insertion.
It's in this steel tube that you must slide the two aluminum inserts, filled with tapered bearings. One from above and another from below. Beforehand, I sanded the paint residue and applied a thin film of grease to facilitate insertion.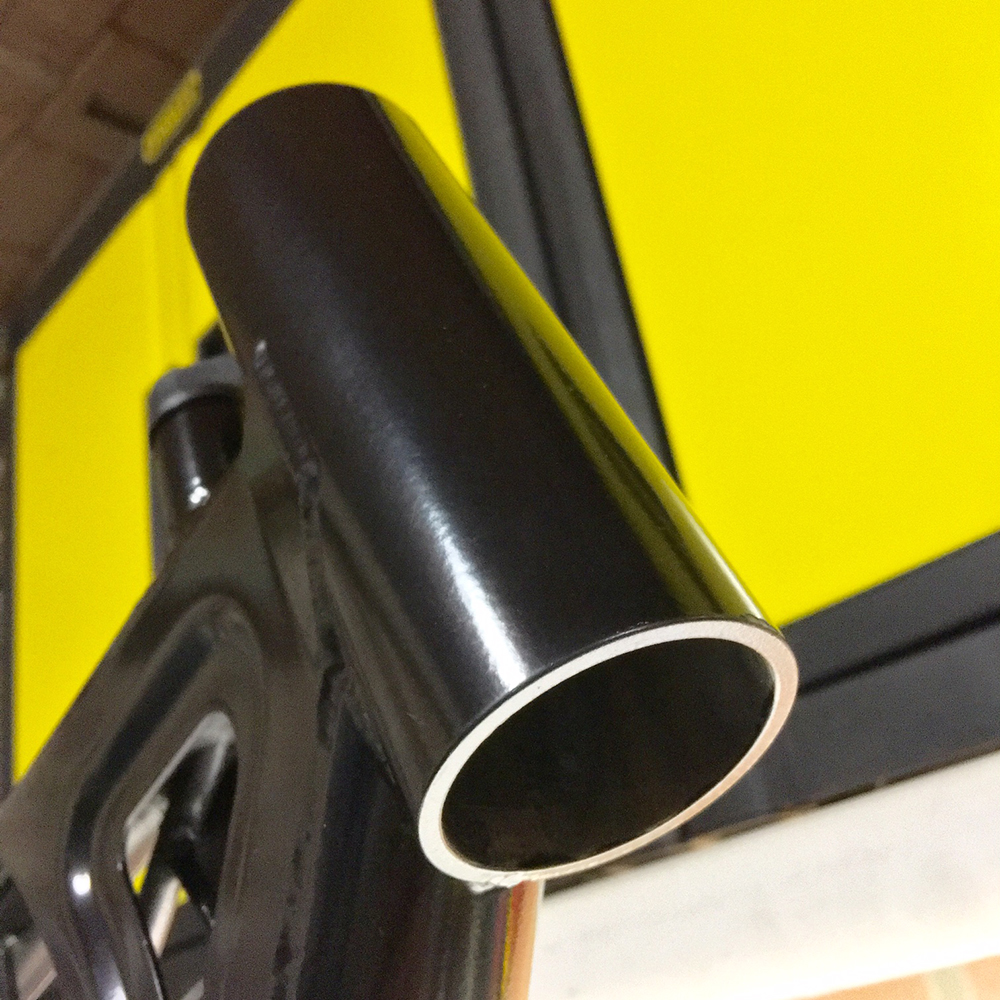 Résultat fini. Vous voyez que la grande partie du roulement vient rentrer de quelques millimètres à l'intérieur de la coupelle (photo du haut à gauche) et que quand on pose l'autre partie du roulement, celui-ci vient à la même hauteur que la partie horizontale de la coupelle. Celle-ci viendra se positionner dans le cylindre de la colonne de direction et posera sur les Tés de fourche.
Finished result. You see that the bigger part of the bearing goes a few millimeters inside the insert (top left photo) and when we put the other part of the bearing, it comes at the same height as the horizontal part of the insert. It will be positioned in the cylinder of the steering column and will sit on the yokes.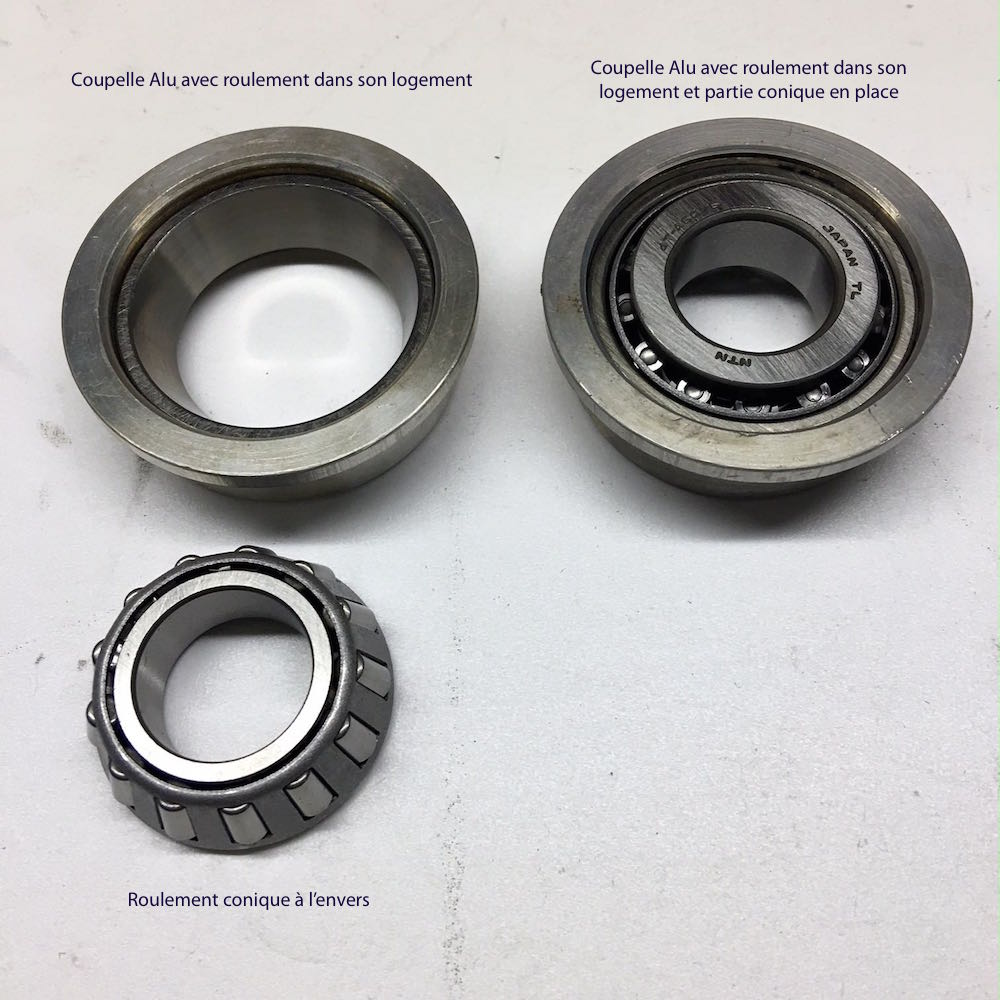 Ensuite, à l'aide d'une douille de diamètre équivalent à celui du roulement, il faut tapoter pour l'enfoncer à butée dans le logement en alu.
Then, using a socket of an equivalent diameter of the bearing, you must tap to drive it to stop at the bottom of the aluminum housing.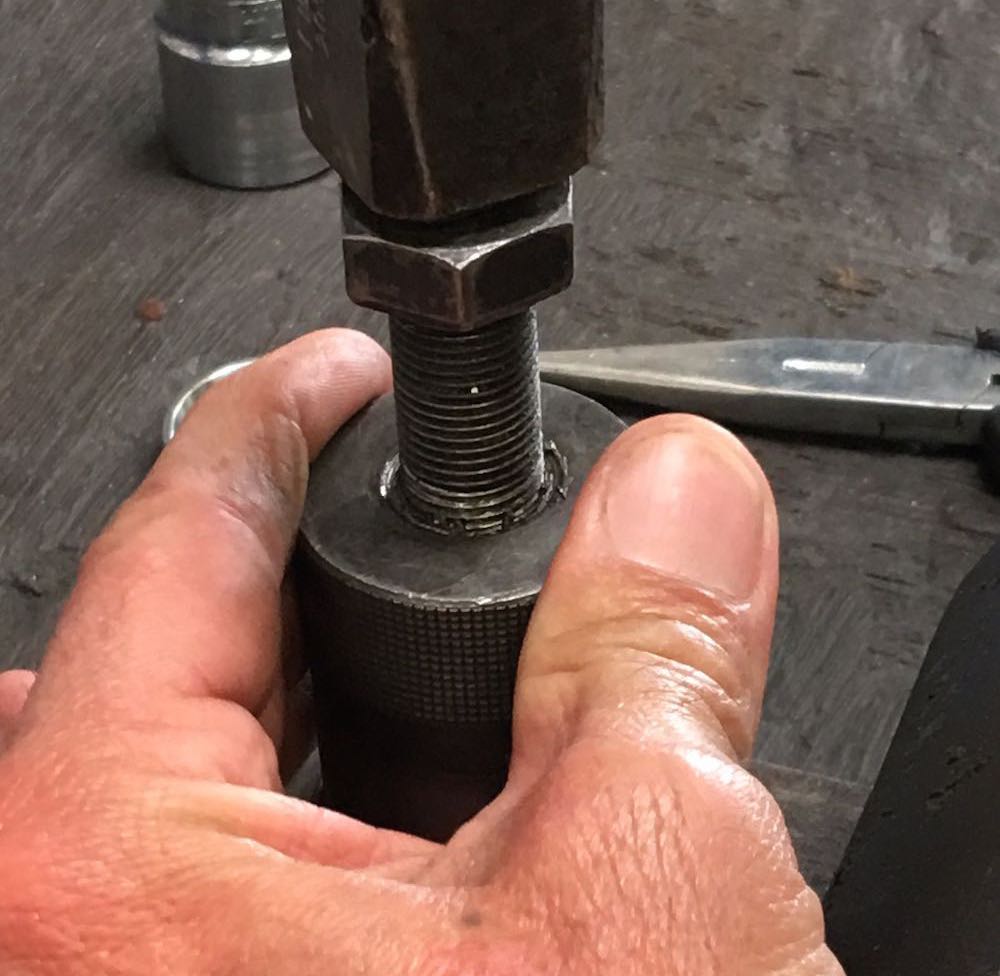 Celui-ci s'est mis un peu de travers, il a fallu le réajuster. L'autre est tombé direct dans son logement ;-)
The first one was a little bit crooked, it had to be readjusted. The other fell off directly into place ;-)
Prendre ensuite une pince pour venir poser le roulement refroidi sur la coupelle chauffée. Avec la rétraction de l'une et la dilatation de l'autre, ça rentre presque sans effort!
Take a plier to take the cooled bearing and drop off onto the heated insert. With the retraction of one and dilatation of the other, it fits almost effortlessly!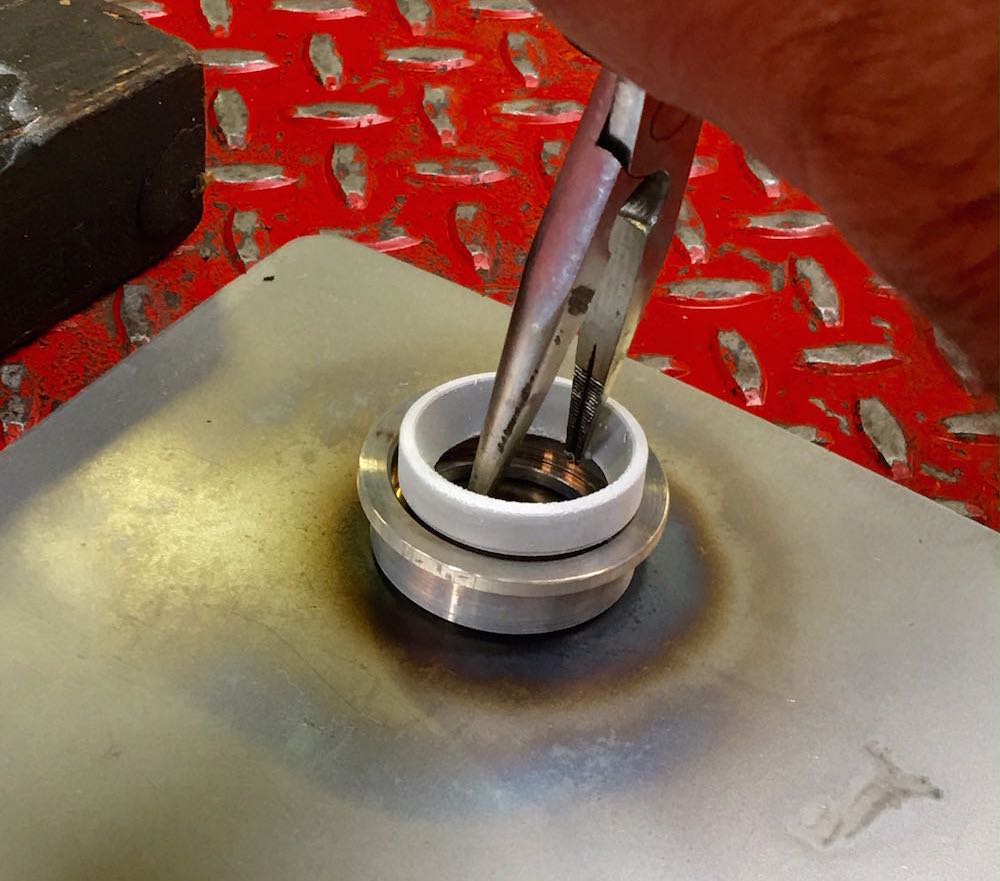 Juste après, mon ami
Ruddy Verkens
de
TT2000
à
Hornu
a utilisé une bombe genre Azote liquide pour faire descendre la température du roulement aux alentour de -30 degrés Celsius! Ne pas laisser trainer ses doigts sinon ils restent collés!

Just then, my friend Ruddy Verkens of TT2000 in Hornu used a bomb type liquid nitrogen to lower the bearing temperature to around -30 degrees Celsius! Do not let your fingers hang otherwise they will remain stuck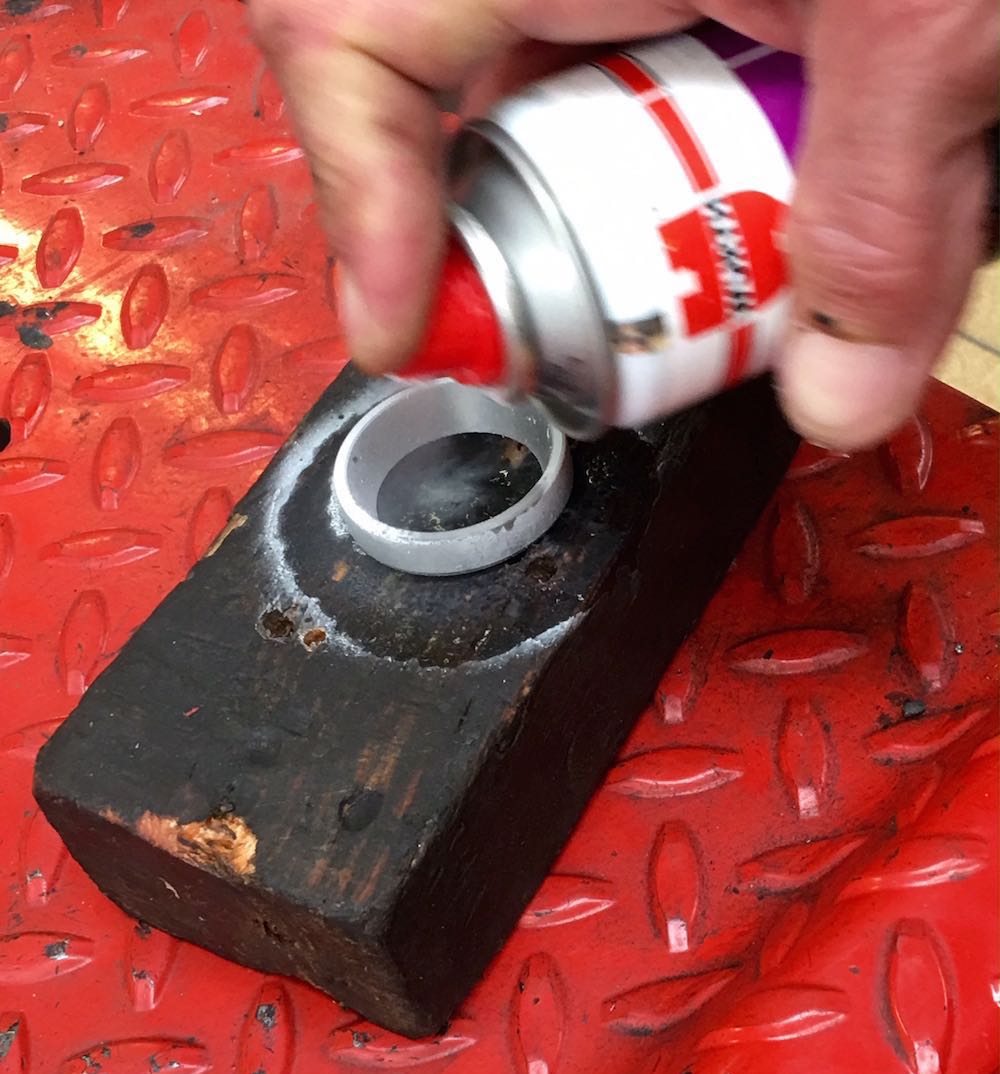 Première opération, faire chauffer la coupelle en au qui va recevoir le roulement. Nous avons utilisé un bec à gaz et posé la coupelle sur une plaque en acier pour prévenir une surchauffe éventuelle du plan de travail.

First operation, heat up the insert that will receive the bearing. We used a gas burner and put the cup on a steel plate to prevent overheating of the work area.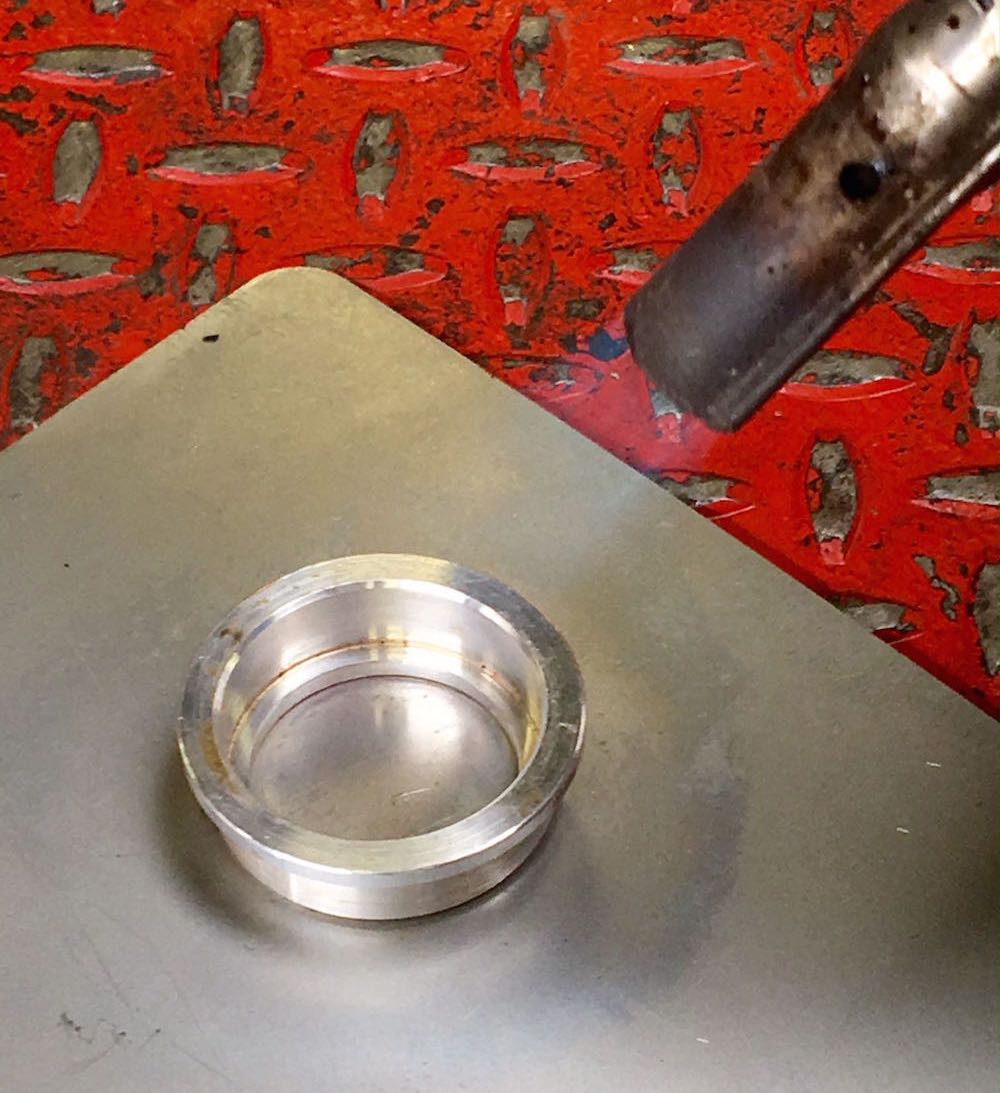 J'ai reçu mes amortisseurs
RockShocks
d'Angleterre et je vais donc les installer sur le cadre puisque le bras oscillant est fixé maintenant!
Ils sont magnifiques ces amortos, tout en alu et faits sur mesure pour la Triumph Cub et son pilote. Je suis surpris d'apprendre que je pèse 12 Stones et demi! Ils utilisent encore cette mesure de poids Outre-Manche! Je ne savais pas ;-)
Ici il fallait juste poncer les quatre pattes d'ancrages car la peinture les recouvrait et empêchait le montage. Un peu de graisse et le tour est joué!
I received my RockShocks from England so I will install them on the frame as the swing arm is fixed now!
They are beautiful these shocks, all refurbishable aluminum and custom-made for the Triumph Cub and its rider. I am surprised that I weigh 12 Stones and a half! They still use this measure of weight across the Channel! I did not know ;-)
I just had to sand down the fours brackets because the paint covered and prevented the assembly. A little bit of grease and voila!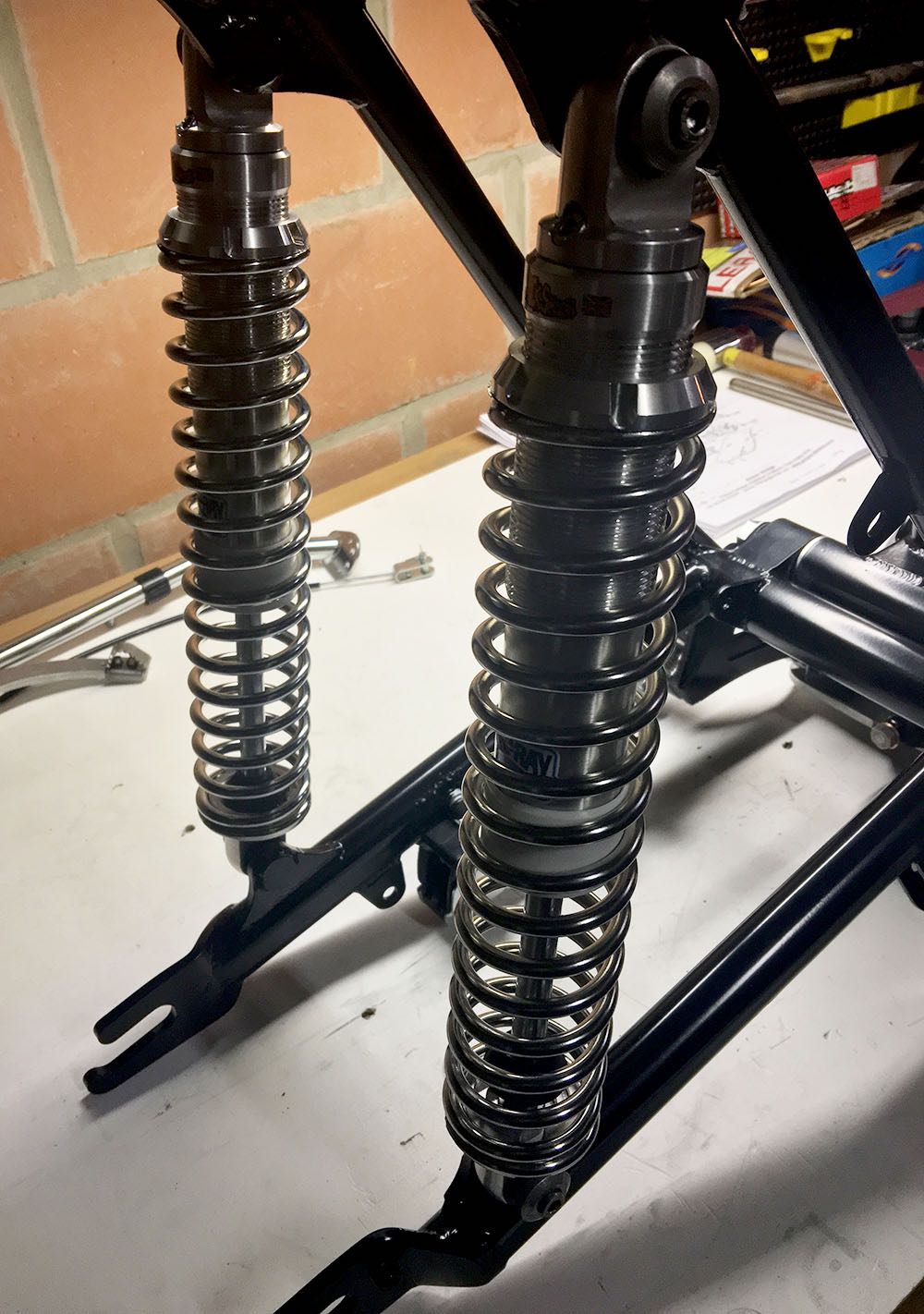 Premier gros travail délicat: placement des coupelles alu qui viennent se glisser dans le tube support du bras oscillant à l'arrière du cadre principal. Elles rentrent sans problème mais il faudra ajuster la longueur du tube car il est trop long et les deux pattes du bras ne rentrent pas!

Avec mon ami
Pierre Bauwens
et sa meuleuse nous arrivons enfin à les faire passer. Le bras se met en place correctement maintenant. Il ne reste plus qu'à fixer sans serrer la charnière supérieure qui accroche le cadre arrière au cadre principal et ensuite il faudra attacher les deux écrous qui eux tiennent le bas du cadre.
Tout ça en restant aligné pour laisser passer l'axe du bras oscillant (flèche verte). Cet axe est magnifique, tout en aluminium mais il faut y aller avec précaution pour ne pas abîmer le filet!

La difficulté vient du fait qu'on doit fixer dans les deux pattes du bras (flèche jaune), deux roulements séparés par une entretoise en alu de diamètre plus petit qui ne tient pas en place. Et cela dans chaque patte. Il faut donc aligner en tout 10 cercles pour pouvoir enfoncer correctement l'axe! Dans l'ordre depuis l'extérieur, la patte d'ancrage du cadre arrière (flèche rouge de droite), un roulement, l'entretoise, un roulement et enfin la coupelle montée sur le tube du cadre principal (flèche rouge de gauche). Et cela des deux côtés!
Nous y sommes quand même parvenus relativement facilement mais il faut prendre la précaution de ne pas serrer du tout les deux écrous du bas du cadre arrière pour avoir suffisamment de jeu pour faire bouger les différentes pièces et les aligner.
First delicate job: placement of the aluminium cups who will come into the support tube of the swinging arm at the back of the main frame. They are fitting perfectly inside but I have a problem with the overall length. I will have to adjust it because the two parts of the swinging arm are not sliding inside!

With the help of my friend Pierre Bauwens and his grinder we were able to let them fit inside. The arm is placed correctly now. The only thing to do is to fix loosely the upper hinge catching the rear subframe to the main frame and then I will attach the two nuts that hold the bottom of the frame.
All this while remaining aligned to pass up the swingarm spindle (green arrow). This spindle is beautiful, all-aluminum but you have to be careful to avoid damaging the thread!

The difficulty is that we must fix in both brackets of the arm (yellow arrow), two bearings separated by an aluminum spacer of smaller diameter that does not stay in place. And that in each bracket. We must align in total 10 circles to properly push the shaft! In this order from the outside, the anchor bracket of the rear frame (red arrow right), bearings, spacer, bearings and finally the cup mounted on the main frame tube (red arrow on the left) . And this on both sides!
We did it relatively easily but do not tighten at all the two lower nuts of the rear frame to have enough space to move the different pieces and align.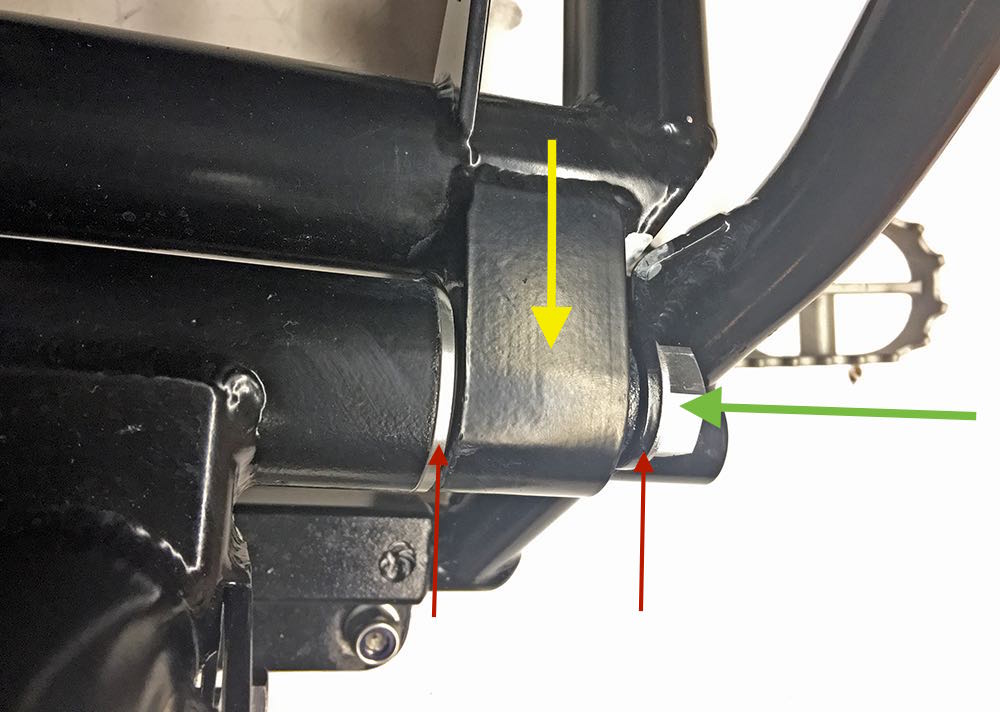 Préparation du travail, ouverture des principaux emballages pour vérification et tri. Ci-dessous les pièces et le sabot alu qui vont se monter sur le cadre principal ainsi que celles pour le bras oscillant
Now, just preparing all the parts for the job, opening bags for checking and dispatch. Below are the parts and the shield for the engine that will be mounted on the main frame. Brake and parts for swinging arm.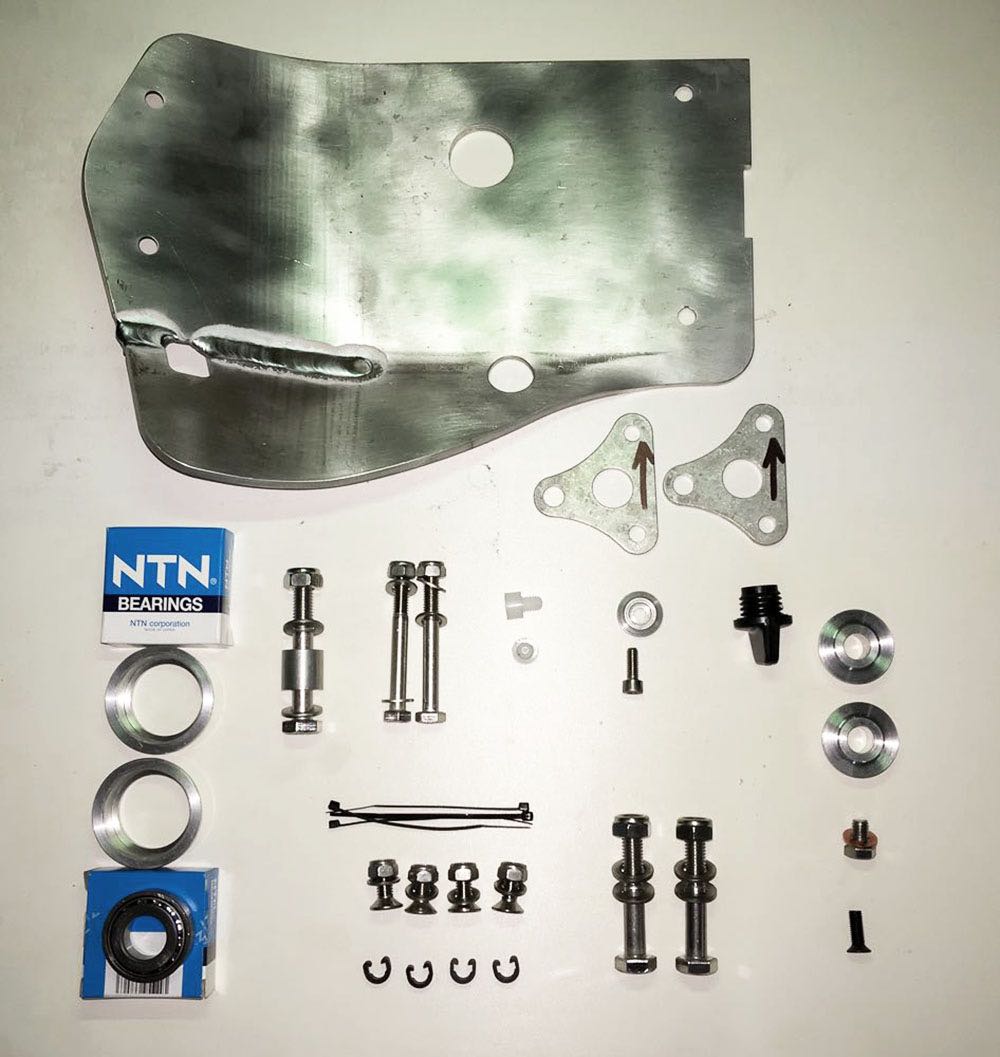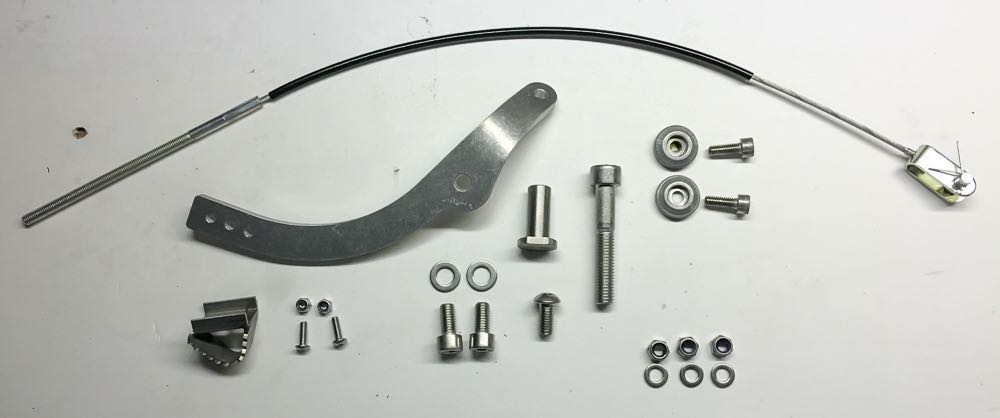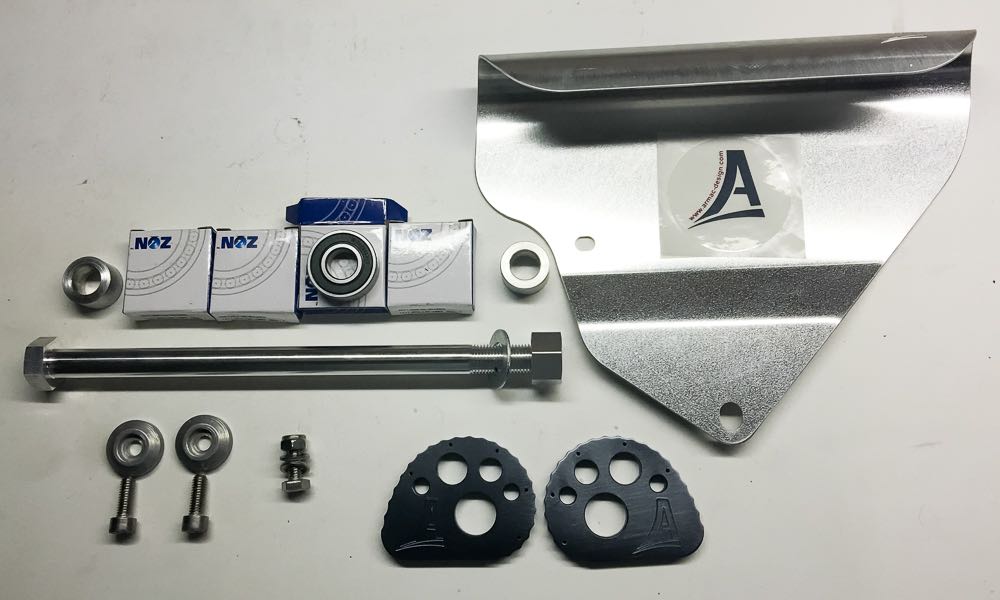 Voilà, les cadres principaux et arrières ainsi que le bras oscillant sont sortis de l'atelier de peinture de
Jean-Pierrre Leveaux
. Ils sont peints en noir satiné epoxy.
Here are main frame, back frame and swinging arm just coming out of the paint shop from Jean-Pierre Leveaux. They were painted in silk black epoxy.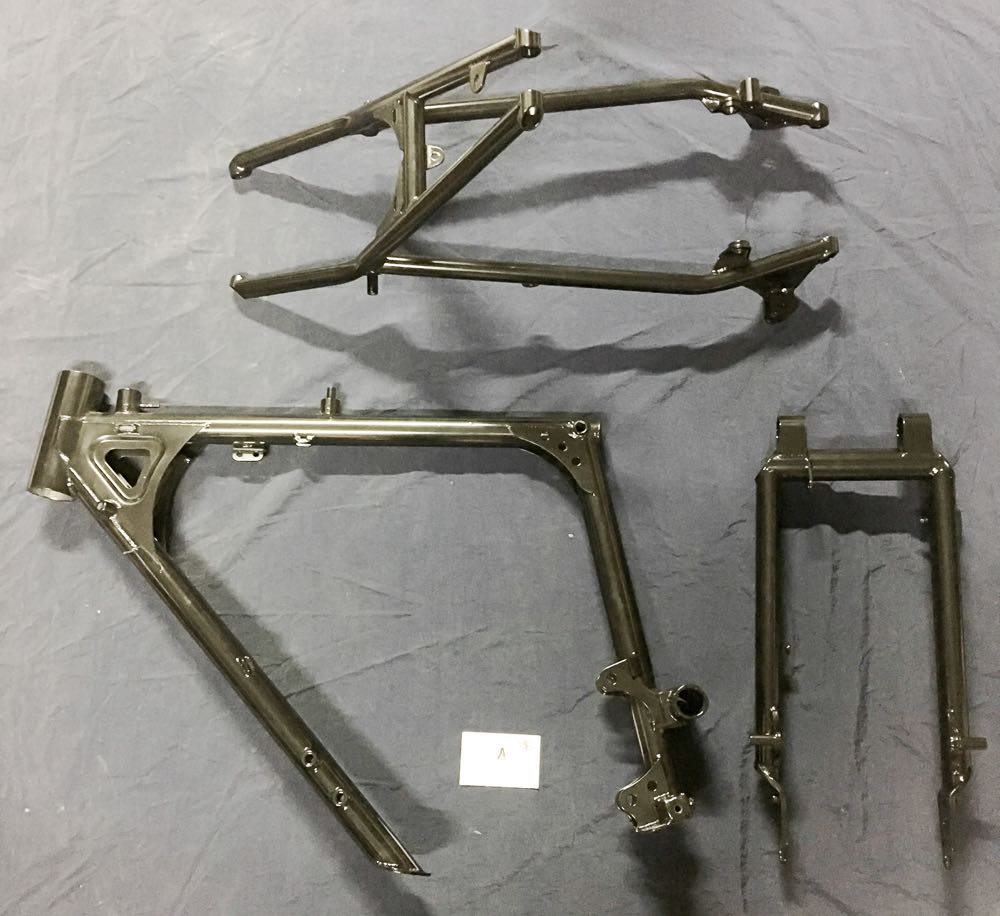 Judy
et
Duncan
nous ont apporté toutes les pièces
Armac
commandées, ainsi que mon moteur et les magnifiques jantes réalisées par
Gerry Minshall
. C'est Noël avant Noël ;-)
Judy and Duncan have brought me all the Armac parts ordered and also my engine and the fabulous hubs and wheels made by Gerry Minshall. It's Christmas before Christmas ;-)